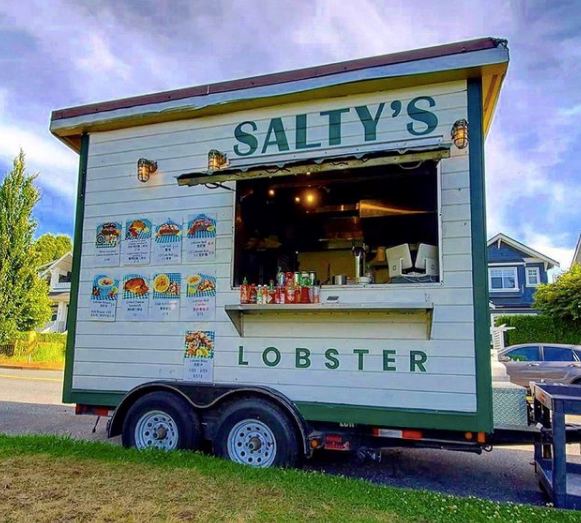 Salty's Lobster – Blog Review
With the business's inexpensive start-up costs, mobility, and dynamic nature, the food truck sector continues to expand and become a new industry. Vancouver wants to become well-known for its street food options, so it is progressively changing its laws and licenses to meet the requirements of food truck sellers. There are currently over 300 food trucks operating in Metro Vancouver and Victoria.
The Salty's Lobster – Where the Idea Came From?
Today we are going to introduce to you one of the most popular food trucks in Vancouver – Salty's Lobster! In 2021, Salty's Lobster was one of Vancouver's top 25 food trucks, according to the StreetFood Vancouver Society website.
Salty's was born when the owner Patryk Drozd and his friend from back east observed that the lobster rolls market was vacant in Vancouver. Salty's first appeared as a part of the Richmond Night Market in 2019 and then moved to the street just over a year ago.
Salty's brand colours are green and white, which gives customers a sense of energy and comfort, which also gives an impression of a little shack near the pier. Salty's marketing activities are focused on Instagram (@saltyslobster) and Twitter (@shacksaltys). In addition, except for fixed venues, the schedule and locations of Salty's food trucks are updated on the website daily.
Are you ready to dig in with us?
Our first impressions of Salty's
Our visit at Salty's took place in front of the Yellow-Dog brewery at Port Moody on a rainy October afternoon. While approaching the place it was easy to recognise Salty's food truck – thanks to the green & white colors of the truck and those super-cool old harbour style lights. There was a little bar table on the side of the truck and a range of sauces to choose from.
The "Old-fashioned" Menu
No line was long enough to prevent us from tasting these dreamy lobster rolls. Besides, the waiting time has allowed us to scan through the menu. At first the menu seemed to be an un-stylish and old fashioned way to present the dishes, but when you think about it, a food truck that supposes to serve food to a large crowd in a short time saves a significant amount of time by deleting the need of answering questions such as "What is this dish?". So yes, it isn't stylish nor modern but it is super-practical and user friendly.
Order and waiting time…
Out of the many pictures on the menu, one in particular caught our eyes. It had a lobster sandwich (sorry, roll..) and a bowl of lobster bisque on it, and it said 'Lobster Combo'. After not-too-long our turn arrived, Kyle (the manager) greeted us with a smile and kindly took our orders. After paying (a card option is offered) and delivering our first names we were set aside to wait while our food was being prepared. Waiting time for our dishes was approximately 10 minutes, which felt like a lot more since we arrived hungry. We couldn't be happier hearing Kyle calling our names to come and pick up our food.
The food
In total we tried three out of the eleven dishes offered in the menu.
First we had the lobster bisque, which was a perfect warm and comforting dish on this cold and rainy October day. 10oz. of creamy heaven, well spiced and rich in lobster meat chunks and fennel, Yummy! Then the lobster roll arrived. It was served in a rectangle box and the lobster roll inside is placed on top of a chequered green napkin, with a slice of lemon and crunchy chips (NOT homemade) as a side dish. The soft bun was generously packed with lobster meat. This is the dish for those who come to eat lobster meat without any distractions caused by other ingredients in their rolls.
Last but not least was another warm star dish from the menu, the lobster grilled cheese toast. Served in the same way as the lobster roll with a lemon slice and some crunchy chips. Two slices of sourdough bread rubbed with garlic butter, hosting an aged white cheddar and mozzarella cheeses, and of course a nice portion of lobster meat chunks. All of these were set to make love in the toaster. When talking about 'food porn' nothing is more exciting than the sight of stretchy melted cheese strings as someone takes a bite out of a hot toast in cold weather. To chill the former excitement we tried to order a beer pint since we spotted a beer tap, unfortunately Kyle said that beer isn't an option right now, and that beer is offered mostly on special occasions or events. We had no choice but to settle for a can of Sprite.
Pricing
Value for money, some might claim that for a food truck the dishes are priced on the expensive side. The price range moves between $9 for a cheese toast (without lobster meat) to a whopping $100 for a white sturgeon caviar & lobster meat roll. The average price for a dish would be around $18. A combo that includes half a lobster roll and the delicious lobster bisque will cost you $17.50, which I find to be fair if you consider the price of the ingredients used. 1Lb of frozen lobster meat in the markets will cost you $36, and a live Atlantic lobster weighs 1Lb will cost you $24, from this 1Lb live lobster you will get no more than 3.25 ounces of meat (20%). Given this information it's a real bargain! Sorry, I meant "steal".
Interview with the Manager, Kyle
1.Who is your main target market?
Obviously, anyone who loves lobster!
2. Where do the raw materials that you use come from?
The lobster, we get them shipped from Halifax a couple times a week; The crab is from a company in Richmond. And the bread and sweet bakery are from East Van, and all other ingredients are from local markets, such as Sunrise Market Downtown.
3. I noticed that there is a dish called Maine Lobster, are those lobster from Maine?
No, that is just a style of the roll, all the lobsters are from Halifax.
4. How many operation locations are there in Vancouver?
We have two food trucks and then we also have one inside East Van Brewery, which is a kitchen set up inside the Brewery.
5. Do you use an external kitchen to cook some of the dishes?
Yes, we have a conservatory kitchen to prepare the food, like the soup etc. Everything was prepared there before being brought onto the trucks.
6. Did Salty's win any awards?
Not yet that I know of, but we are aiming to be the top in terms of sales in Vancouver.
7. How many employees are needed to operate this business? What does the company's organizational structure look like?
We have 12 employees in total right now. We have three Managers, at least one of them will have to be in each location at all times. And then we have prep cooks and line cooks. We also have an office worker who will be responsible for marketing. We do all our marketing in- house.
8. Does Salty's have any direct competitors?
There are no other food trucks doing lobster, so we do not have direct competitors, but we do consider all other food trucks and restaurants that do lobsters our competitors.
9. Where do you see Salty's a couple of years from now?
I believe it may be to open a few more operating locations, such as inside more breweries, as well as a few more food trucks. Franchising is also possible.
Some optimization tips
Upgrade the bought potato chips to a homemade one.
Set some stools or plastic chairs for clients who wish to sit down and eat.
A beer tap is placed right in front of the clients, make sure it's operating.
On cold & rainy days a shelter or/and a propane patio heater would be nice and welcoming.
Have a lobster roll served in a gluten-free bun as an option.
More selling points, please!
Info:
Salty's Lobster Shack
Address: Visit https://streetfoodapp.com/vancouver/saltys-lobster-shack for its schedule
Tel: +1 (778) 891-4509
Instagram: @saltyslobsterFB: https://www.facebook.com/saltyslobster/